Standing Stone's Gun For Hire MH NA1 UT2 x Thunderhead's Blazing Comet NA1 UT3

This is a litter that is put together with a purpose.  We are out to produce truely versatile German Shorthaired Pointers with extreme water drive.  We are doing this by pairing these 2 dogs who both crave water. 

Shooter is a young dog but is proving himself well.  He is already a strong waterfowl dog and intense and stylish on point in the upland field.  Ethan says Shooter completed retrieving training faster and easier than any dog he has trained.   His hips have been PennHip rated L.24 R.21.   Shooter is an AKC Master Hunter and a Navhda NA-1 and UT-2 Prize dog.  He passed his Master Hunter tests going 6 for 6.  This is an ultimate accomplishment in bird drive, trainablility and cooperation.

Halley is a proven producer, earning a Navhda Breeder's Award for Natural Ability.  Halley is a Navhda NA-1 and UT-3 Prize dog.  She produces pups with intense bird drive and style.  Several of her pups currently being run in AKC hunt tests.  Halley loves the water and looks great in the field.  Her hips are OFA Good.   This will be Halley's last litter.  Don't miss out!

2 males and 2 females were born on Sept 23!  We currently have 1 male and 1 female available.   Puppies are priced at $1000. and a Navhda natural ability test is required.


Jeremy and Melanie Steinle

1266 100th Ave.

Hadley, MN 56151

(507) 350-9573

Standing Stone's Nothin But Trouble MH UT1 x Aspen Hill Diamond Jo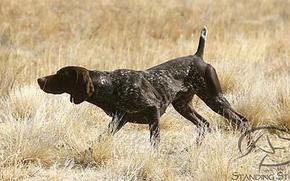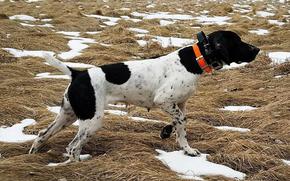 We are very excited about this breeding between Nix and Jo.  These two compliment each other extremely well, from stylish points, great noses, a love for water and playful, loving personalities that can't be beat.

Nix is owned by Kat Pippitt and has completed his Master Hunter title.  He has also earned a Navhda Utility Prize 1 and will be running in the Invitational for his Versatile Championship in September.   Nix is a hard charging dog that works at a comfortable range, slamming stylish points.  Nix's hips are PennHip rated L.29 R.24

Jo is athletic, stylish and has a great personality.  She is fun to watch in the field.  She has completed her AKC Master Hunter title.  Jo's hips are OFA Good and her elbows are OFA Normal.

Puppies are priced at $1000 and a $100 deposit is required to hold pick order.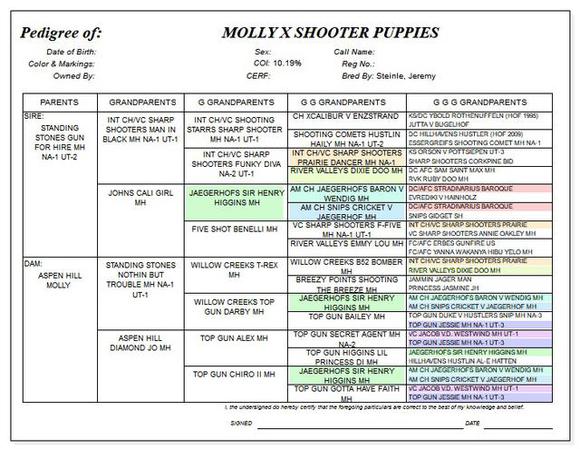 Puppy Policies:

We are proud of our American Armed Services and as a thank you for service to our country, we offer military discounts. When inquiring about a puppy, please let us know what branch you served in so we can properly thank you. 

A $100 deposit is required to hold litter pick order.  After your litter is born, we require an additional $400 deposit within 1 week of the pup's birthdate.  The balance is then paid upon delivery.  If the pup is to be shipped, that payment is due when the puppy is 7 weeks of age.  Deposits and any payments towards a puppy are non-refundable.  If you are unable to take a puppy from the breeding you had originally placed a deposit on, the deposit will be transferred to a different breeding.  We do not guarantee certain markings.  If the sex requested is not available, we may refund the deposit or transfer it to another litter. 

We guarantee our puppies against genetic defects.  We conduct health testing on our dogs and do everything we can to produce 100% healthy, happy pups.  We do realize though that as much as we try, there may be things that are beyond our control.  In the event that a dog has a genetic defect that is verified by one of our approved veterinarians, we will replace the puppy from the next available breeding of equal quality.  In order to receive replacement, the puppy with the gentic defect must be returned.  If you wish to keep the puppy with the defect, replacement will be made at 50% of the price on the new puppy.  Approved veterinarians are Dr. Jenn Olsem and Dr. Connie McNab of the Slayton Veterinary Medical Center and Dr. Marie Buschschulte of Marshall Animal Clinic.